BC.Game Casino differs from the other crypto casinos because it is built on the Ethereum blockchain, enabling smart contracts. BC.Game casino is also known for its guaranteed provable fairness where all transactions are visible on the Ethereum blockchain. Moreover, the players can use more than 30 different cryptocurrencies to play at the BC.Game Casino.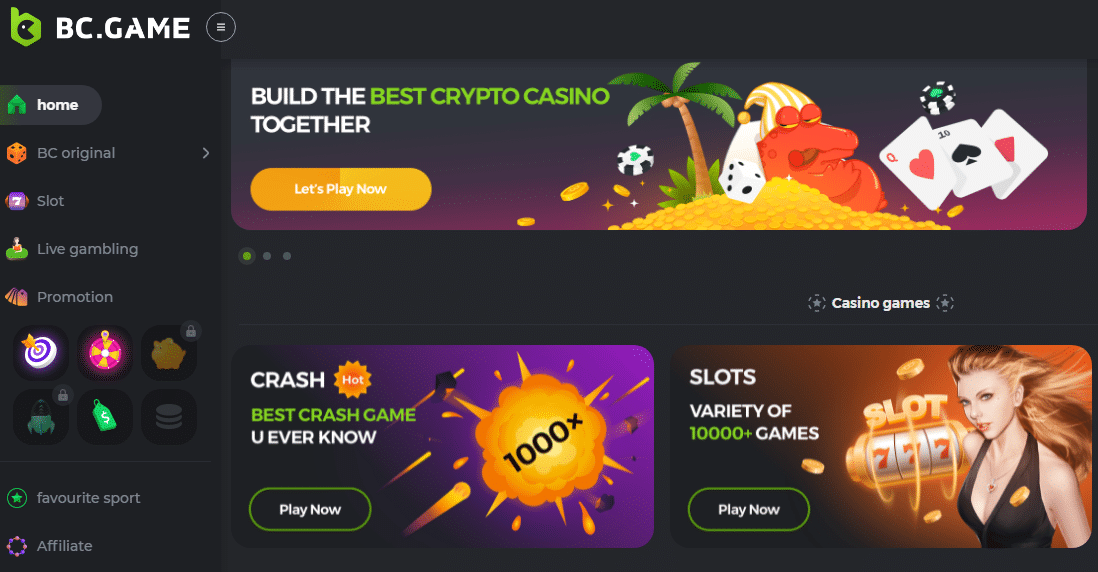 Launched in 2017, BC.Game is a Crypto Gambling Foundation verified multi-cryptocurrency casino offering provably fair casino games. As a crypto gaming and gambling platform, the casino is also compatible with Scatter, Tronlink, and MetaMask, unlike other casinos. BC.Game Casino is also known for its lightning-fast Bitcoin withdrawals and deposits, enabled by its lightning node and LNURL invoicing.
As an Ethereum-based casino, it employs smart contracts to ensure provable fairness alongside RNG. And this is yet another characteristic of BC.Game Casino that makes it a legit casino. At present, the casino features 14 games that include Crash, Baccarat, Classic dice, Keno, Cave of Plunder, Hash Dice, Blackjack, Roulette, Roulette, Plinko, among others.
How to Register at BC.Game?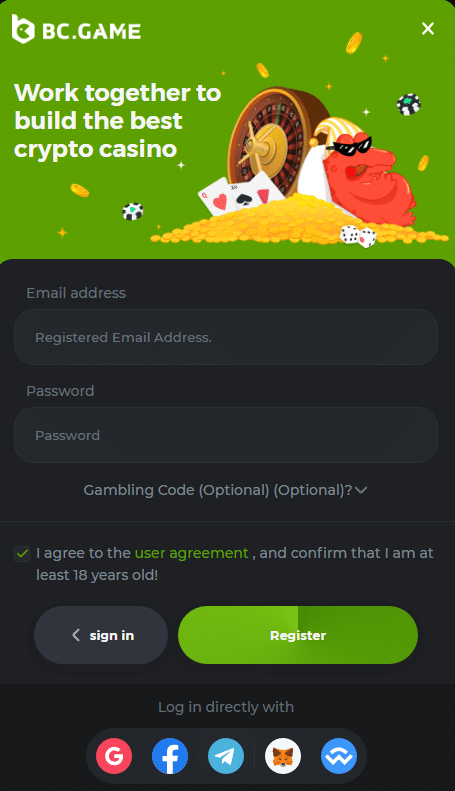 BC.Game has an easy registration process. Players can register by simply entering their registered email address, followed by assigning a password. Some of the BC.Game reviews provide casino codes that can be entered in the optional casino code tab for an additional bonus.
Unique Features at BC.Game Casino
BC.Game offers 1 free spin via the lucky wheel on the casino's homepage for a prize reward of 1BTC. Apart from this, every new player also gets 1000 JB coins, which is BC.Game's in-house currency for playing games.
Players can also earn more EOS and ETH crypto coins by completing basic daily tasks such as 'checking in,' 'completing ten martingale bets,' etc. Every day players receive 188 JB coins as well, which can be used for buying more spins.
Another salient feature is easy and simple, user-friendly, and highly engaging User Interface (UI). The website is quite simple, making it easy to navigate. BC.Game, a multiple-crypto casino, can be accessed from anywhere in the world. As a crypto-only casino, players from countries where cryptocurrencies are considered legal can easily access the casino, even though gambling is prohibited in those jurisdictions.
Other than the casino bonus, promotional rewards, BC.Game offers random rewards to players who are actively involved in the casino's chat room to encourage the players to remain active on the website.
Now, let's have a look at the other unique features of the casino, which are as follows:
BC.Game Casino Game Library:

As mentioned earlier, the casino has 14 games based on smart contracts; and most of which are provably fair games. The house edge varies depending on the game ranging from 1% to 2.7%. For example, the Classic Dice game has a house edge of 1%.

Play Various Games and Win Rewards at BC.Game Casino

The gaming operations are quite transparent, where the transactions can be viewed by anyone of the Ethereum public ledger (blockchain). BC.Game is also well-known for speedy reimbursements of player winnings and faster transaction settlements.
Bitcoin Games:

BC.Game supports multiple cryptocurrencies, including and not limited to BTC or Bitcoin. All the cryptos deposited are converted to the in-house JB coins enabling the players to play all the games mentioned above. Players also can withdraw their winnings in the form of Bitcoins, where the minimum limit is 2mBTC.

Readers are advised to note that there are no minimum and maximum limits for deposits. Thus, players can place the lowest bets based on their comfort levels. BC.Game promotes responsible gambling, and hence, it imposes the lowest minimum withdrawal limit compared to other casinos.
Promotions and Bonuses:

Presently, BC.Game offers the following types of casino bonuses: Task Bonus, Master Medal, and Shit Code. Task Bonus is for both existing and new players to complete the day's given task for winning bonuses.

Win Bonuses like ShitCode at BC.Game Casino

Based on the medals earned by the players, the players are rewarded with additional cryptos. For instance, players with 20 medals can earn a prize reward of up to 1 BTC or its equivalent cryptos. The 'Shit Codes' earned can be redeemed by entering the code on the casino's bonus page. The rights reserved by the casino where the rewards and conditions for the same are involved.
Restricted Countries:

Players from most of the countries can access the BC.Game Casino, especially if cryptocurrencies are legal in that particular jurisdiction.

Affiliate Program:

BC.Game offers one of the best affiliate programs where visitors can win up to 100$. The options are simple, and the casino also provides additional support like aiding in creating one's website for affiliate marketing.

VIP Program:

The VIP Club is divided into various levels like VIP Club 1, VIP Club 22, and more. Based on the VIP Club level, the players qualify for daily rewards and bonuses. For example, the Rakeback bonus is an advantage awarded to members of the VIP Club 14 and above members.

Join VIP Club and Enjoy the Benefits at BC.Game Casino

Deposits and Withdrawals:

As mentioned earlier in the blog, the deposits and withdrawals are instantaneous. Also, there are no limits for deposits; however, the minimum withdrawal limit applied is 2 mBTC.

Support and Security:

Players can reach the customer support team via 24/7 live chat, Telegram, or email. BC.Game Casino believes in the ideology that technology creates the future. This reflects in the casino's safety standards, where the operations and transactions are carried out with the utmost transparency.
Conclusion
BC.Game Casino is considered one of the best and fair multiple-cryptocurrency casinos based on the Ethereum blockchain. The casino uses smart contracts, and most of its games are provably fair – this BC.Game Casino review covers all the salient features of the casino.
Frequently Asked Questions
How long does it take to process my deposit and withdrawal transactions at BC.Game?
BC.Game is well-known for its instantaneous deposit and withdrawals. The casino enables LNURL invoicing for lightning-fast transactions.
What kind of coins can I use here?
The casino supports multiple cryptos, including the lesser-known cryptocurrencies. Once the crypto is deposited, the users can convert them into JB coins for playing the BC.Game casino games.
Is BC.Game legit?
Yes. BC.Game is a legit casino and has been verified by the Crypto Gambling Foundation. The casino uses smart contracts, which makes BC.Game a truly decentralized casino.